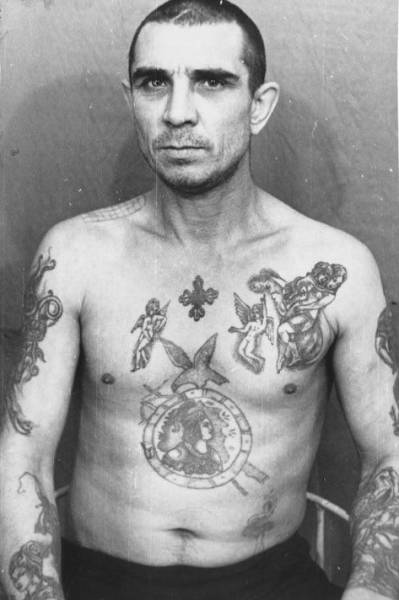 In jails and prisons around the world, tattoos can become a significant part of an inmate's uniform, not only marking the crime they're in for but also serving as a way to communicate with others. In Russia, for instance, a dagger through the neck suggests that an inmate has murdered someone in prison and is available to carry out hits for others-meaning, if you see that guy walking toward your cell once all the guards have disappeared, you should run the fuck away.
Arkady Bronnikov is regarded as Russia's leading expert on tattoo iconography. He was a senior expert in criminalistics at the USSR Ministry of Internal Affairs for over 30 years.
As part of his duties he visited many correctional institutions of the Ural and Siberia regions, where he interviewed and photographed thousands of convicts. He regularly helped solve criminal cases across Russia by using his collection of tattoos to identify culprits and corpses.
He released a collection of around 180 photographs of criminals locked up in Soviet penal institutes. Russian Criminal Tattoo Police Files, published by FUEL, is probably the largest collection of prison tattoo photographs to date, at 256 pages.
The tattoos on this inmate mimic those of higher ranking criminals. They indicate the bearer has adopted a thief's mentality. However, he does not wear the 'thief's stars;' he is not a 'vor v zakone' or 'thief-in-law,' and therefore holds no real power among this caste.