Izismile is dedicated to enlightening our visitors and bringing smiles of wonder to your faces.
Ok… Ok… We want to make you laugh a bit and scratch your head while thinking how the heck or where did they find that at…
In that vein we have created this new section that will astound and bewilder you or just make you say huh! Let's give a big welcome to drum roll please!
"Fact of the Day".
Feel free to contribute any oddity that you know about, weird tidbit, wild history, or anything else that you think others might enjoy, laugh at or even scratch their heads at!
Today we'll talk about The Great Pumpkin Charlie Brown!
If Charlie Brown had seen this monster pumpkin he would have sworn it was the Great Pumpkin! This Jack-O-Lantern is the world's largest carved pumpkin. Guinness recorded the huge pumpkin for its Book of World records in October of 2005 and there haven't been any larger ones carved since.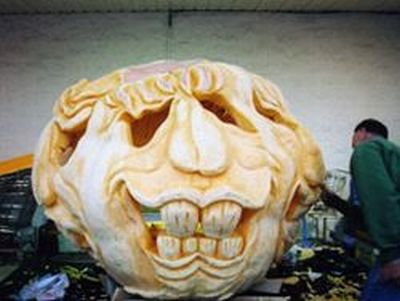 This monster weighed in at 1,469 pounds! It was Scott Cully who carved the orange beastie in Northern Cambria, Pennsylvania, USA. It took him several days and the results were amazing.
Learn Something Daily Factoid: Did you know that pumpkins were not the only vegetable used for Halloween.
Turnips, potatoes, and rutabagas were also used, the pumpkin became traditional in the USA because of its abundance.