If you have a little troubled water, there is no need to turn to Simon and Garfunkel, Cecil County in Maryland may have just the bridge for you. It seems that the historic bridge that crosses over Little Elm Creek near Childs on Route 545 in Maryland is too narrow by Federal Highway Standards. Built in 1932 by the Roanoke Iron and Steel Company, the steel Warren Style pony truss bridge concrete abutments, is 97 feet long, but it is only 27 feet wide from curb to curb, and that is 5 feet short of the Federal requirements of 32 feet for bridges that have more than 5000 vehicles a day traveling over them.


Do you know someone who is really good with tools? Someone that loves to get their hands on a fixer-upper? Maybe an investor that likes to flip properties? The bridge must be sold to a city, county, non for profit, state, historic preservation group, or individual that will rehabilitate it back to established standards required for historic bridges. The bridge, which was built in 1932, is eligible for listing in the National Register of Historic Places, so must be restored by it's new owner. Apparently, it's more cost effective to sell the bridge, or dismantle it, than to widen it. It's a shame the County can find no other solution than to sell it. I don't know how much they're asking for it, but it would be a huge expense to take it down and move it, maybe they should pay someone to take it away. It is reported that some state funds might be available to help move it. What do they do if they don't sell it? Close it off and build a new bridge off to the side? Maybe they should put it on Ebay like Sarah Palin did with the Alaskan governor's personal airplane.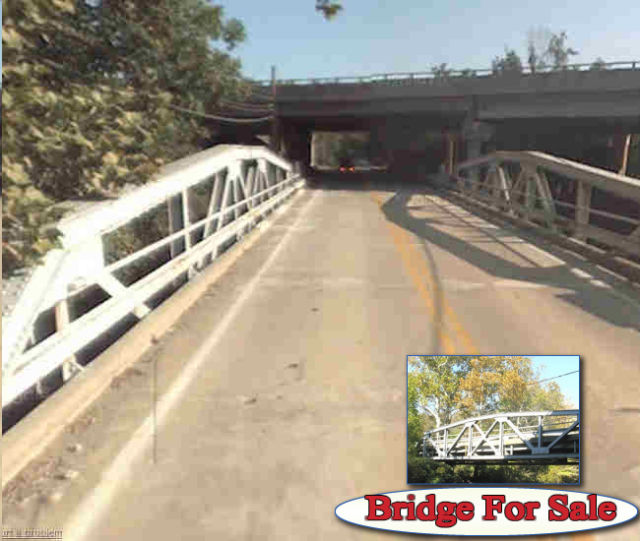 I say let's call Ty Pennington! Ty and his Extreme Home Make Over crew would love a project like this. I can just see them now! They will bring out 1000 friends, neighbors, and near by residents, in hard hats and tshirts with shovels and hammers to dismantle it, load it on trucks, and move it rural Kentucky. They have received word that there is a family that takes in wounded ducks there, and they need a bridge over their creek for the fuzzy little duckies that can't swim anymore. The family of 8 will go on an all expense paid vacation to see 7 mile bridge in the Florida Keys, while the Extreme Makeover Crew rebuilds the Cecil County bridge, just like the original, but better, with non slip decking for the ducks, and automatic feeders at each end. Included with this Extreme Make Over surprise will be 12 cases of rustoleum paint, and a 2 week course of training by a World Famous duck trainer. Billy Ray Cyrus will sing a rendition of Tex Ritter's "If the Ocean Was Whiskey and I was a Duck" to raise money to help feed the ducks. Hiccup. Bus driver..."Move that bus!"